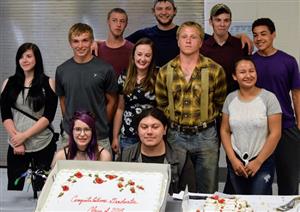 On Wednesday, May 30, 2018, the ZED ALC Graduation was held and 25 students were recognized for this great accomplishment. These students have worked hard to finish what they started. The ceremony began with an Opening Welcome by ALC Principal, Scott Tryggeseth, and also included speeches presented by two graduating seniors, Kulley Simerson and Tea Wytaske. Some of the GOLD Nuggets professed by the students and teachers included:
"Life isn't always gonne be great, but it's as great as you make it!" Advice a student distinctly recalls from a much loved teacher
A student professes to having deep gratitude for all those teachers who made him feel welcome and stuck with him during tough times and expected me to achieve the goal of GRADUATING
"This is not a one size fits all school and I'm not that kind of person."
"I don't know what the future holds for you Matthew! But I know it's gonne be good."
"Trust your inner voice. Don't let the world turn you away from who you really are."
"You walked into my classroom and made an impact on me."
"We don't have the caps and gowns or pomp & circumstance but we have the music that comes from the hearts of the teachers." Through these recognitions.
These were just a few of many of the highlights from the afternoon. ZED is very proud of these students and wish them all the best in the next chapter of their lives!